Original content: 20 The Biggest Wedding Trends We Predict In 2020
Trends are ever-evolving, ever-changing and transforming, giving us the opportunity to try something new and different every time. This applies to such events as weddings as well, and we look forward to new trends with eager eyes and hearts. It is time to look forward to 2020 wedding trends.
You have come to the right place if you're looking for new trends, from color to themes, to décor, we have just the right information for you. Whatever type of wedding you are having, be it eco-friendly, minimalist, rustic or classy. You are sure to find something in our collection of 2020 wedding trends to work for you. Create the most unforgettable wedding day with some of the hottest current wedding trends around.
Trend 1: Coral Is The New Wedding Trend
The color goes a long way in bringing wedding themes to life. So, if you're trying to decide on a trendy theme for your wedding, consider one of the living coral. Announced as Pantone's color of the year for 2020, this will no doubt cross into 2020 as one of the colors to look out for. This vibrant, warm and buoyant color will be a great choice for any bride or wedding planner in search of fresh new wedding ideas.
Source: Sarah-Jane Ethan Photography, inijephoto via Instagram, Belluxe Photography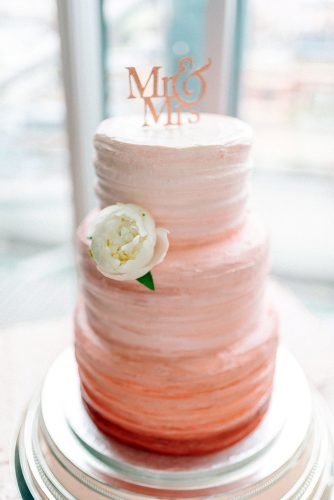 Facebook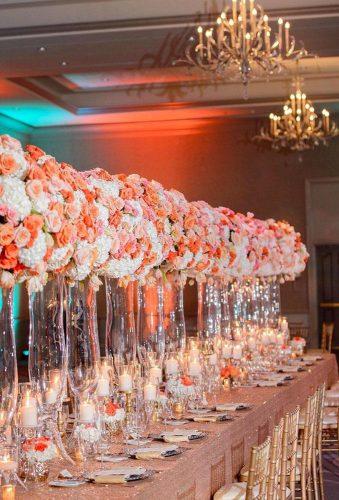 Facebook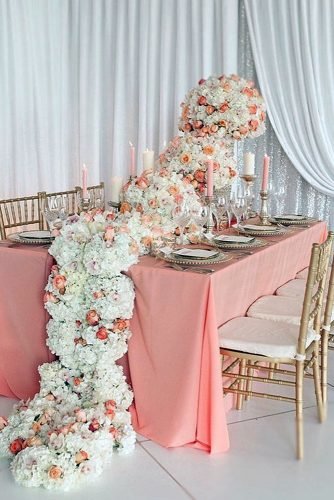 Facebook
Creating a theme around living coral can produce a pallet of bold and beautiful colors that will blend seamlessly in your wedding décor, cake, bridal party attire, and even entertainment. Set the tone of an eco-friendly themed wedding, modern, rustic or even vintage with this bright and beautiful color that makes a room come to life. You choose the ambiance for your big day, and this particular new trend can give you just the right amount of elegance. From coral wedding centerpieces to floral installations and arrangements, alfresco décor and absolutely breathtaking backdrops for Instagram-worthy photographs.
Trend 2: Silver Sage, Mustard And Dusty Rose Perfect Colors For Wedding
Want to be original, but not ready to give up your dream of a traditional white wedding? Add some color elements! Every piece of wedding decor and each detail of a bridal look looks more stylish with some extra coloring!
Source: laurenfair via Instagram, Lindsay Hackney Photography, romanivanov_photo via Instagram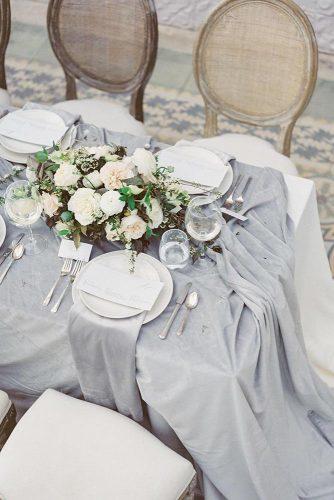 Facebook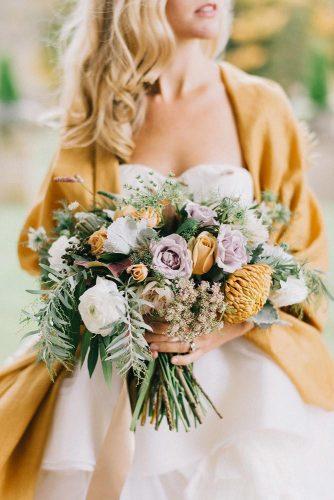 Facebook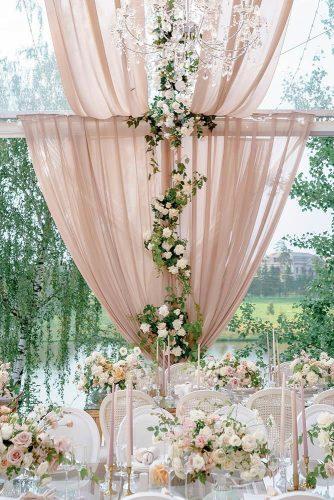 Facebook
What are the perfect colors this year? Silver sage, mustard, and dusty rose! It might be hard to imagine how to incorporate them into your wedding design – so here are a couple of examples! Just look at how these gorgeous elements look at the photos! Definitely, something to consider for your own wedding pics!
Trend 3: Bridal Subscription Boxes
Bridal Subscription Boxes are the biggest trends to hit the ceremony and reception planning scene in decades, and there's no wonder why. With how stressful wedding planning gets, there is something every bride-to-be needs to make the preparation journey easier and fun and here comes the bridal subscription box, the service that sends you a box full of wedding-themed items and bridal goodies.
For sure there are lots of subscription services, but our team is crazy about . They provide 9 uniquely themed boxes full of planning tools, apparel, decor ideas, bridal and wedding day essentials. Choose the length and frequency of the subscription (which is especially great for those who are planning a 2020/2021 wedding) and get your boxes twice a month, monthly, bi-monthly or even quarterly.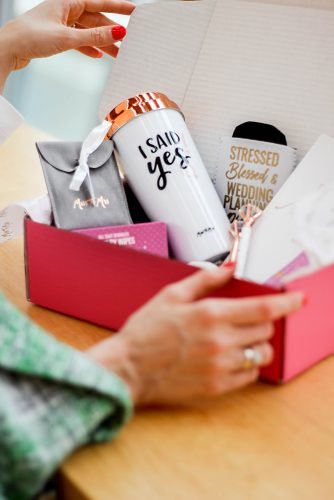 Facebook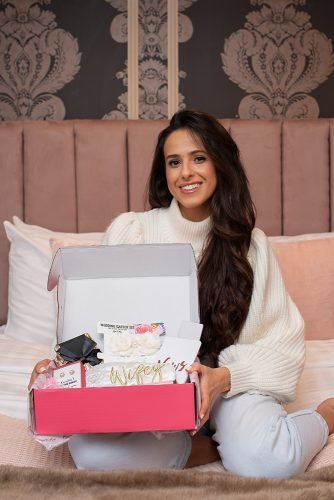 Facebook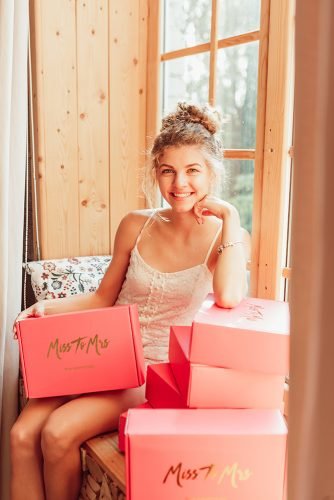 Facebook
Bridal boxes become one of those trends that brides simply can't do without. You can't have a wedding without a ring, and you can't plan a wedding without the Miss To Mrs Box.
Trend 4: Wedding Dresses For 2020
Want to know the hottest wedding dresses trends for 2020? First of all, this year is all about bold wedding dresses. No more boring wedding gowns! Be yourself, be original, don't be afraid to stand out!
Source: Berta, rimearodaky via Instagram, Suzanne Neville
Facebook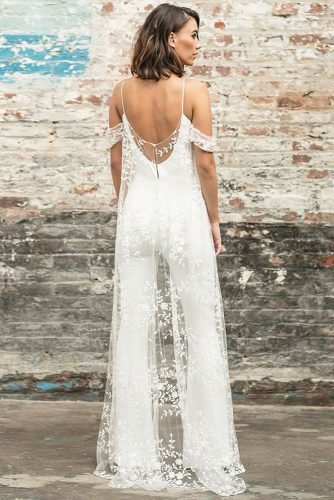 Facebook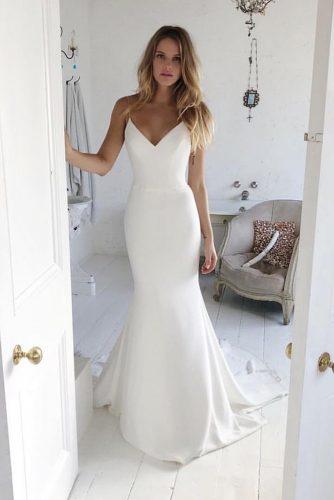 Facebook
Large 3D flower embellishments and huge bows for a bold bride. Super simple smooth silk dresses and bridal suits for a modern city hall civil ceremony. Need more?  Ethereal multi-layered dresses with see-through bodices for beach weddings. And oh, you should take a look at these plunging v-necklines, going deep down right to the belly button. Word of the year? Sustainability! Eco-friendly materials, work ethics, and second-hand fabrics are all top fashion choices!
Trend 5: Wedding Hairstyles For 2020
Boho and rustic weddings are definitely on the rise, and the style dictates every detail, including hair. Messy updos, half up half downs and braids are especially popular this year. French braids, fishtail braids and all types of braided hair possible – in buns, in a ponytail, any way you may think about.
Source: cruz.makeup via Instagram, blushandmane via Instagram, xenia_stylist via Instagram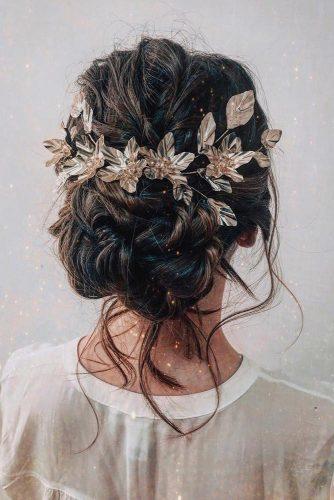 Facebook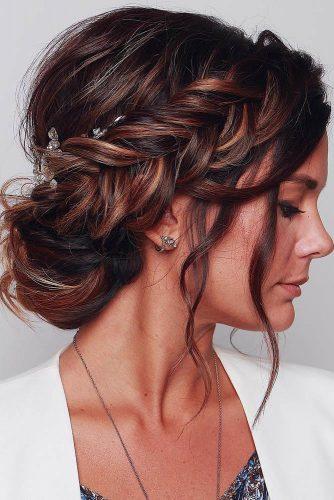 Facebook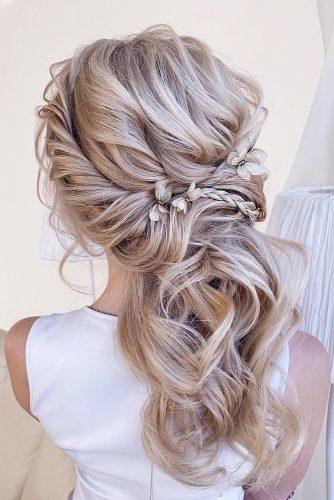 Facebook
Want to add some accessories? Make it either very simple – a large flower crown, or very delicate. A bit of baby breath, woven into your hair, an intricate hairpin with leaves and flowers or a hairline will add style to your trendy messy hairdo. Want something super simple? Try a sleek ponytail. Or make your hairstyle as boho as possible with trendy mermaid hair coloring.
Trend 6: Metallic Details
One more trend of this year is metallic details. It doesn't matter which metal you decide to choose as the main theme. Just make sure all the details have the same color. Gold, Silver, Copper, Rose Gold, Platinum, Titanium- all of these metallic colors are high on our list of trendy ideas.
Just take a look at some of the examples – we are sure these shimmery wedding decor ideas will give you some inspiration!
Source: Paula Visco Photography, Vicky Baumann, Brooke Schultz Photography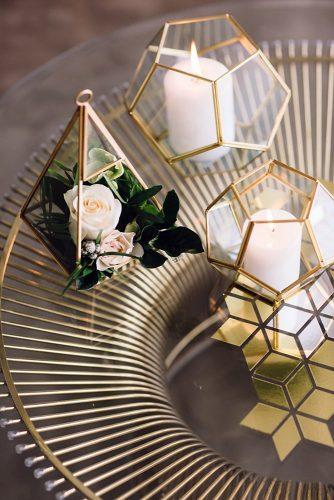 Facebook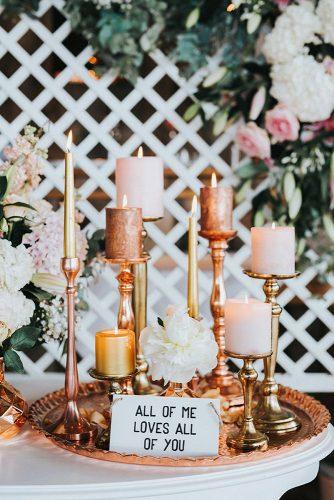 Facebook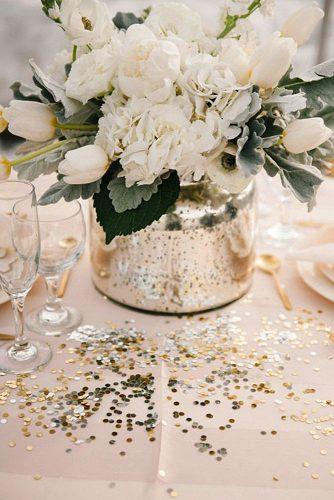 Facebook
Source: honeylovecakery via Instagram, Mango Studios, Especially Amy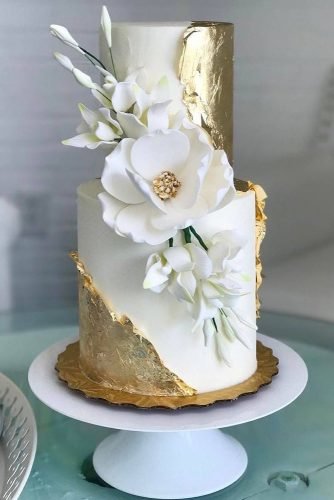 Facebook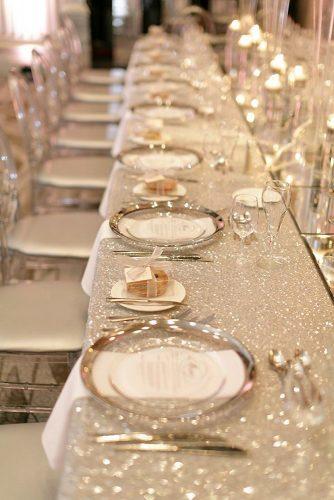 Facebook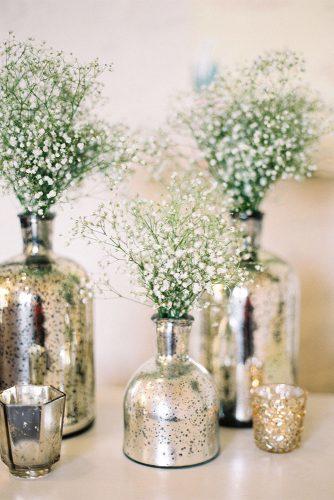 Facebook
Still, if you want to know, which ones are the top ones – copper and bronze are metal colors that rule 2020. Warm copper shine brings coziness, while the bronze gives a bit of medieval flair to the design.
Trend 7: White And Greenery Minimalism
Minimalistic design and eco-friendliness are among the top trends in 2020. So it comes as no surprise, that the combination of these two trends by using wedding greenery in wedding decorations remains as popular as ever. A combination of egg-shell or alabaster white, and forest or fern green is especially popular. It adds style and elegance to your perfect wedding.
Source: Anna Duncan Photography, Brad And Jen Photo, Duepunti Wedding Photography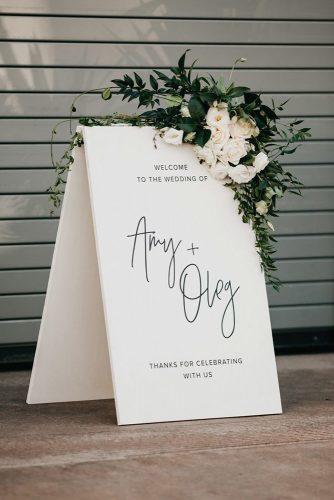 Facebook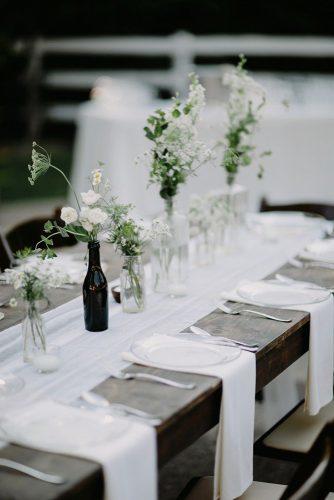 Facebook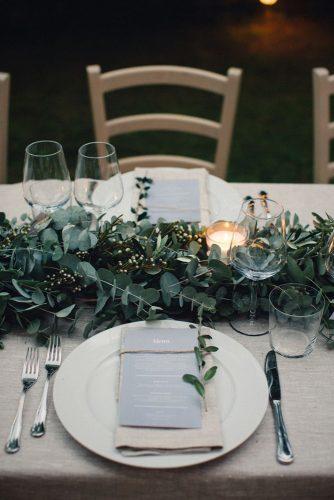 Facebook
Also, it is quite convenient because it has this very clear design outline, which is easy to follow. White and greenery minimalism adds style to any kind of wedding and is one of the most universal design patterns. Boho wedding, country wedding, beach wedding, modern city hall wedding – you can apply this design to every style possible. A truly universal move!
Which flower do you think, when you think about a wedding? For many years roses ruled all the weddings – white, red… 2020 is here to change the stereotype.
You would be surprised to learn, that the new queen of wedding flowers is dahlia! Why is that exactly? First of all, it has a range of vibrant colors, that can be incorporated into any color scheme, and beautiful shapes.
Source: Jose Villa, Pants Wedding Photography, Lelia Scarfiotti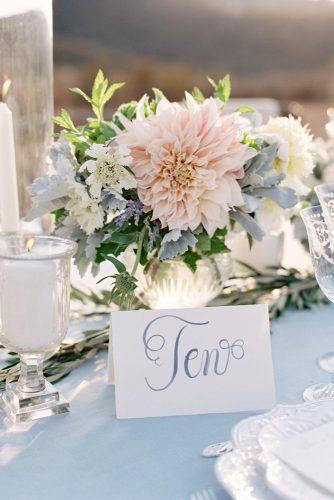 Facebook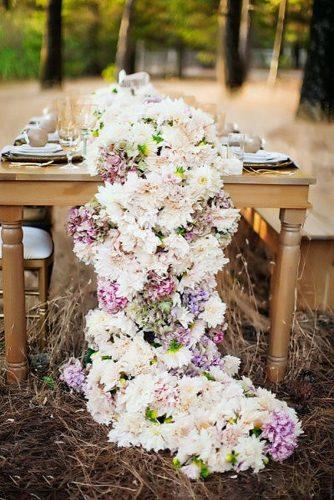 Facebook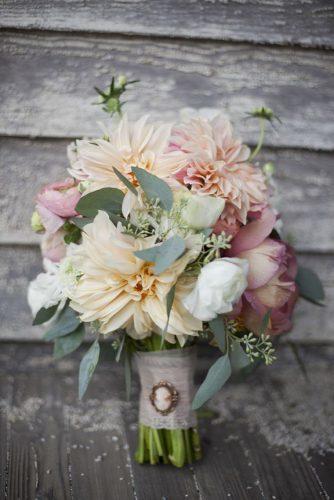 Facebook
Dahlias remind us of a star. Also, they add texture to any flower design, and probably a bit of cosmic charm to your decorations. After all, 2020 is all about color and texture, isn't it?
Trend 9: Wedding Balloon Decorations Ideas
Balloons are typically associated with birthdays – but they make amazing wedding decorations! This is one of the newest and craziest trends. Before you disagree, take one look at these gorgeous examples of wedding balloon decorations! Aren't they amazing?
You can intertwine balloons with flowers, or order balloons-only decorations. It is a great solution if you or your guests are allergic to flowers!
Source: mangostudios via Instagram, Olegs Samsonovs Photography, lk.photo via Instagram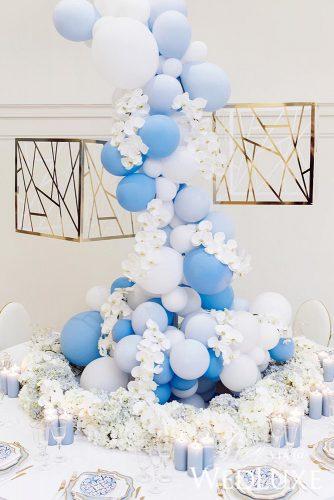 Facebook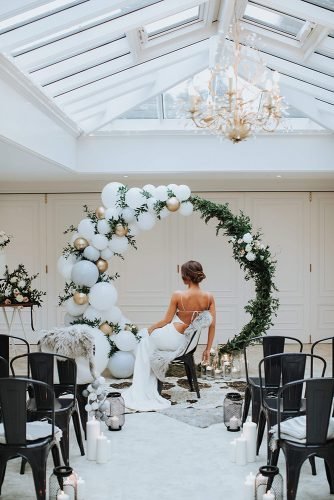 Facebook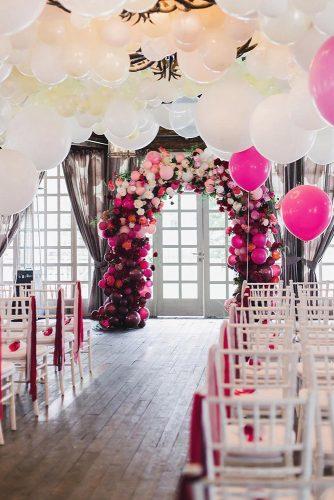 Facebook
Add to your wedding reception their soft, silky textures. Use them for bride and groom sculptures, balloon arches, columns, and centerpieces. Balloon decorations are great both for indoors and outdoors.
Trend 10: Clear Acrylic Wedding Decor
Planning the ultra-trendy event? Clear acrylic elements will add style. These pieces of design look ultra sleek. You would be surprised to find out that they are also more durable than traditional glass. These decorations and elements are light and may look fragile, but they are virtually impossible to break.
Source: nuanci via Instagram, katiebeverleyphoto via Instagram, Jasmine Star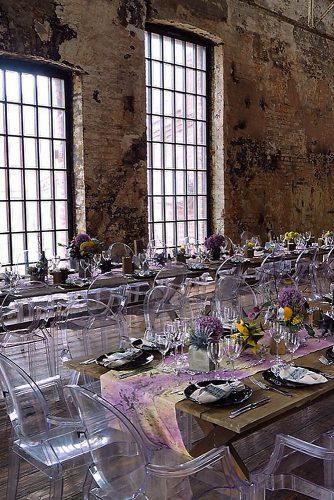 Facebook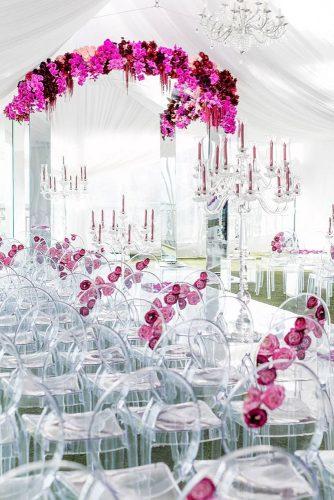 Facebook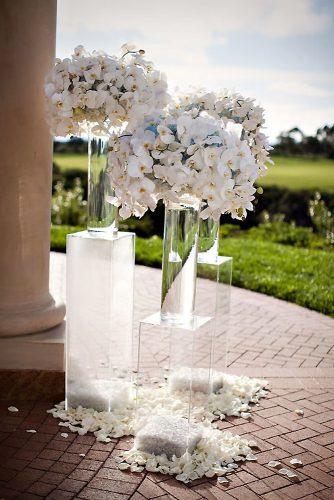 Facebook
Clear acrylic elements give the impression of an expensive wedding party. Also, they will add style to any type of wedding. It will add elegance to a minimalist, low-key event. It can make even a lush wedding party one of the trendiest events of the year.
Trend 11: Hanging Flowers Decor
Planning a boho or a country wedding?  Hanging flowers decor can turn every location into a fairy tale forest, be it a backyard, a simple tent or a barn. Wisteria flowers, hanging low from the ceiling, various flower arrangements, and even small potted plants – what can be more festive? Make your wedding guests feel the power of nature!
Source: Rebecca Yale Photography, katya_avramenko via Instagram, Leah Dorr Photography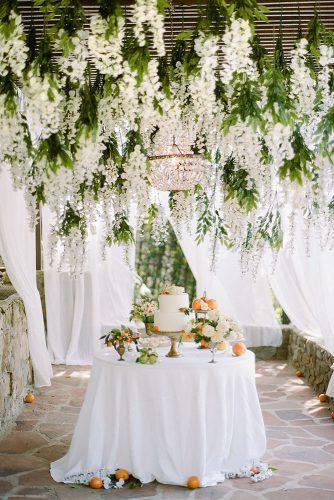 Facebook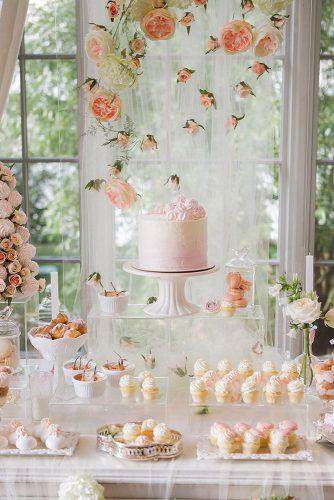 Facebook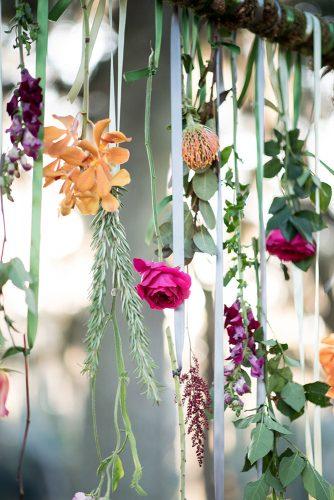 Facebook
Source: georgejohnphotography via Instagram, larissaclevelandphoto via Instagram, eddiezaratsian via Instagram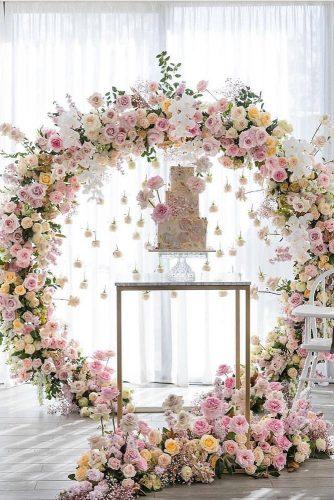 Facebook
Facebook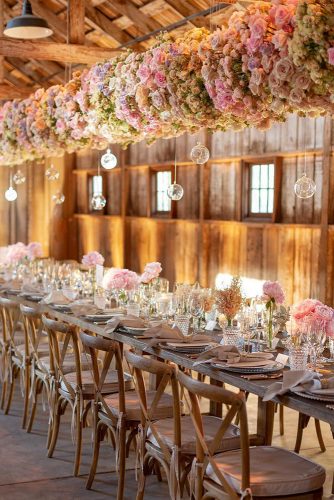 Facebook
Flower decor is a great alternative to lush flower decorations, making this part of the wedding budget more frugal. At the same time, hanging flowers allow saving money on expensive wedding locations. Turn your garden into the place of your dreams!
Trend 12: Hottest Wedding Trend 2020 – Neon
Want to know the most special trend in 2020? Well, here it is – neon lights. Does it sound like a fashion disaster to you? Well, why don't you give it a chance? Have a look at these stunning examples!
Source: bellabloomsfloral via Instagram, Lilly Red, Red Berry Photography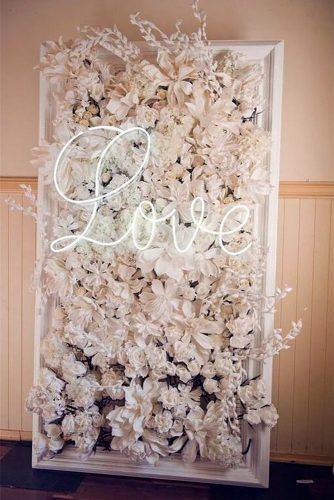 Facebook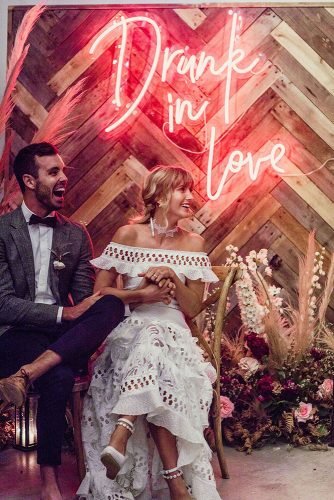 Facebook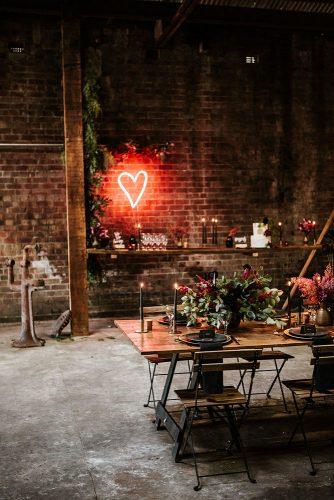 Facebook
Source:  littlepineappleneon via Instagran, wolfandwildflowerphotography via Instagram, littlepineappleneon via Instagram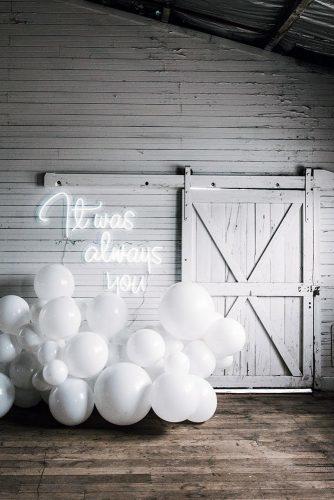 Facebook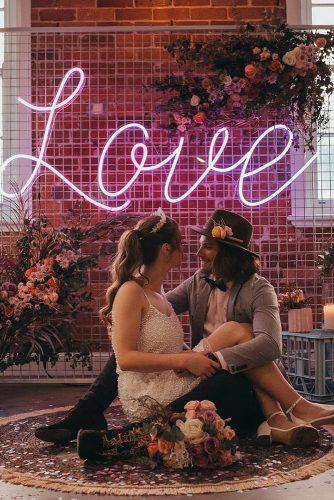 Facebook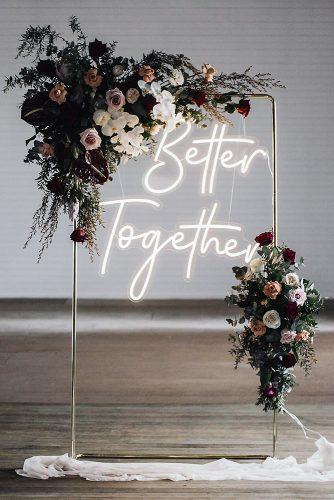 Facebook
The neon wedding signs are trend number one this year. Add some lights to your decorations. A photo area with neon signs in cursive lettering, rendered in pastel colors, make a great background for photos! Use neon signs instead of traditional wooden signages for sweet romantic sentiments like 'love you to the moon and back', 'happily ever after', or 'Mr and Mrs'.
Trend 13: 2020 Wedding Trends – Dark Color Palettes
New wedding trends bring along with the new changes. Not every bride is interested in the traditional all-white or bright wedding. Some couples and event designers prefer a more unique palette, with subdued hues. Something which might better reflect the personality of the couple. Rustic bridal shower decorations could benefit from such uniqueness if the colors are carefully chosen. For instance, a color palette consisting of black, ivory, and merlot.
Source: mksadler, the.mclachlans,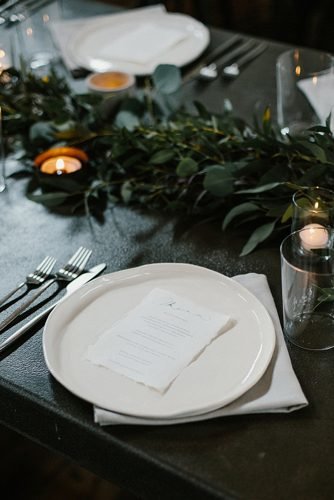 Facebook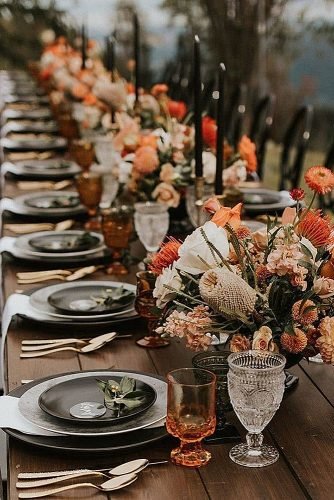 Facebook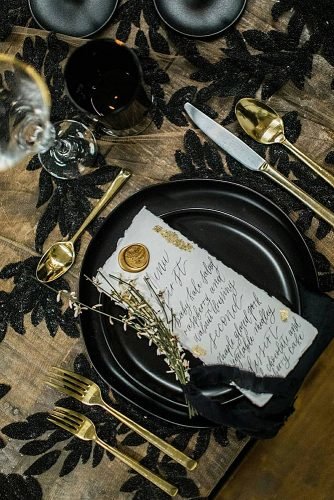 Facebook
Choosing moodier accents to directly contrast soft textures and blush décor can give your wedding the edge that you need to make an outstanding statement. You don't have to stick with tradition if you don't want to. For trendy and new weddings ideas, consider a combination of muted colors. More and more couples are choosing these unique color combinations for a strong visual impact. Whether you're having a fall or even a spring wedding, this latest wedding trend is one worth exploring.
Trend 14: Latest Wedding Trend – Unique Floral Arches
Floral installations have been a source of inspiration for weddings lately and will definitely continue to feature well into the future. The large over the door floral arrangement for Prince Harry and Meghan Markle's royal wedding was hard to go unnoticed, and will surely make an impact on future nuptials. While this might not particularly be a wedding registry trend, couples who decide on the simple registry wedding can still make a grand entrance with a floral arch at an after-party or wedding reception.
Source: greenweddingshoes via Instagran, kreate_photography via Instagram, laura_made_it via Instagram
Facebook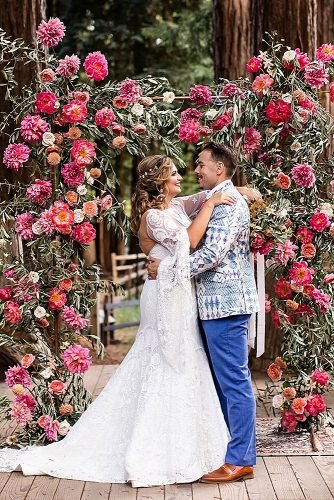 Facebook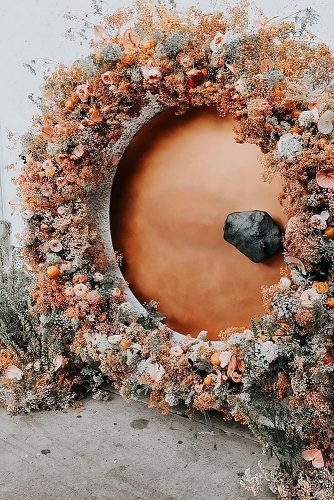 Facebook
Floral arches are creations that make for grand entrances, and beautiful detailing that creates a fancy backdrop for amazing photographs. Flowers cannot be excluded from wedding décor, and this particular trend which has been a part of wedding themes 2020, is expected to continue. There has also been a little bit of a move away from the usual cultivated flowers like grasses, wildflowers, and roses. In 2020 it is expected that we will see a lot more of potted greenery, dried flowers, wheat, and pampas grass. Non-perishable origami flowers might also feature more often, due to their potential to be reused at future events.
Trend 15: Popular Trend – Eco-Friendly Weddings
The importance of sustainability is on the minds of more and more people as time progresses. It has become a recurring theme at lots of weddings, and this is why we are sure it will be present in 2020 wedding decor trends. Couples have begun to consider ways of reducing their carbon footprint, minimize travel, and use organic and local products.
A lot of eco-friendly and sustainable practices are being integrated into wedding preparation as the years go by. From all-vegan wedding menus, to portion sizes that minimize waste, the use of biodegradable confetti, and seed paper for wedding stationery, or even just digitization of all wedding communication. The list goes on, and it is not just potted plants, there are numerous methods of joining this trend for a better and more sustainable environment, even through weddings.
Source: cydweeksphotography via Instagran, blushweddingphotography via Instagram, eco_logic_lifestyle via Instagram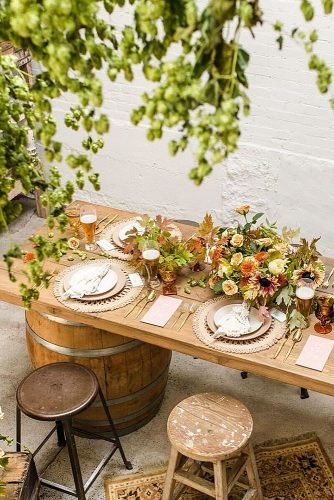 Facebook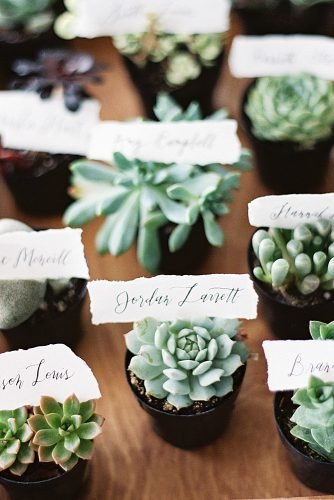 Facebook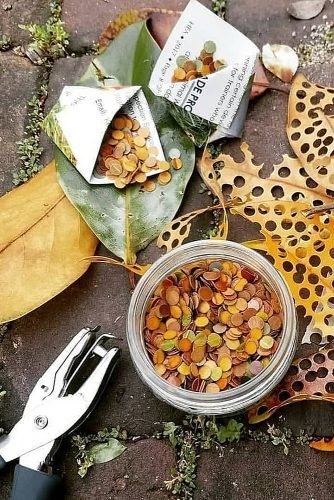 Facebook
As many sustainable aspects were seen in wedding theme trends 2020, we are sure to see more in 2020 as more couples take on these new wedding trends. If you are still unsure of the steps to take in having an eco-conscious wedding, something as simple as composting leftover food from the event, or donating flowers from your venue to a hospice after the wedding is over, will more than suffice.
Trend 16: Denim Wedding Theme
Denim wedding trend themes are one of the 2020 wedding trends to look out for. This is an unusual new wedding trend that appeals to the chic couple. If you think denim is only great for wear, wait until you see a denim table runner. Neatly tailored denim with embroidered edges makes the most beautiful table runners.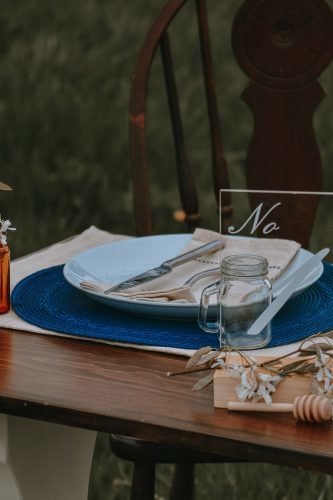 Facebook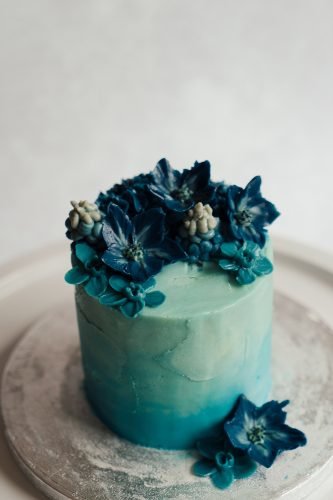 Facebook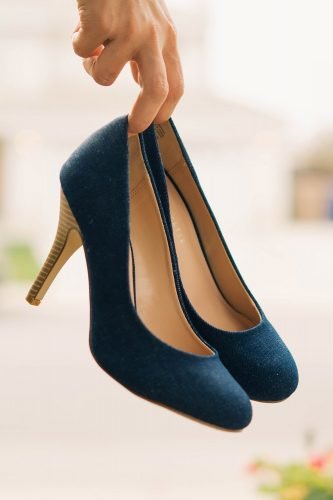 Facebook
Denim is also great for place cards and candleholder wraps. They bring more sophistication and attitude to the table. Wrap around the candle holders or case them in to see its true beauty. The chairs also get the denim touch with bows made out of denim. Decorate these bows with flowers and attach them to the backrests.
Denim inspired cakes are unique, with expertly crafted sugar flowers in denim colors. The same goes for the wedding bouquet made of denim. This attracts attention to its uniqueness. This trend is taking over 2020.
Trend 17: Latest Wedding Trend – Natural Bridal Make Up
Minimalist bridal makeup is the latest wedding trend to hit weddings. Brides want to look as natural as they can. The secret is to invest in good skin prep before the wedding. This leaves the skin ready and a makeup artist's delight.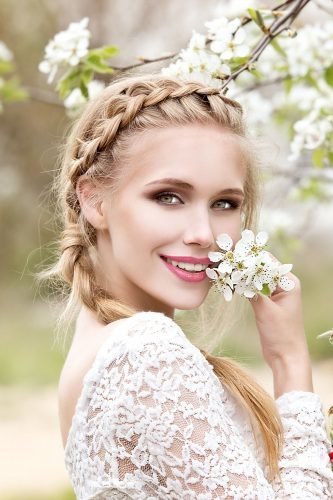 Facebook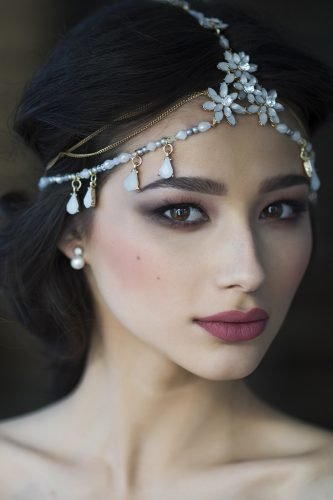 Facebook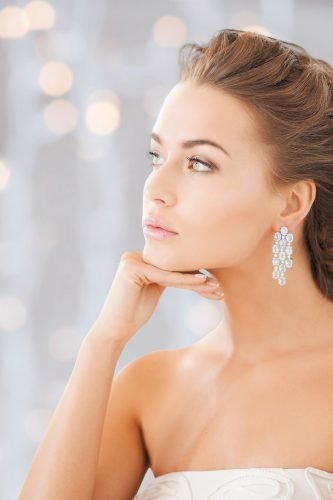 Facebook
For the brows, fill the sparse areas to give a natural depth to the face. The brows flatter the eyes and forehead, so it should get filled out. If a sun-kissed look is what you desire, have a little spray tan on. You could also hit light bronzer on the places where the sun rests like the forehead, nose tip, cheeks, and chin.
Contour minimally to sculpt and flatter the facial angles. A waterproof mascara on your natural lashes subtly lifts and defines them. Highlight the high points of your face very gently, then use a lip-stain and blur the edges. This is against using staining lipsticks.
Trend 18: Lab-Grown Diamonds
Diamonds are a girl's best friends, but when they are lab-grown, they get better. Opting for lab-grown diamonds is one of the trends in wedding preparation that's fast along over. Couples now get involved in the process of picking out their rings. And the craze for lab-grown diamond sees them getting more value for their money.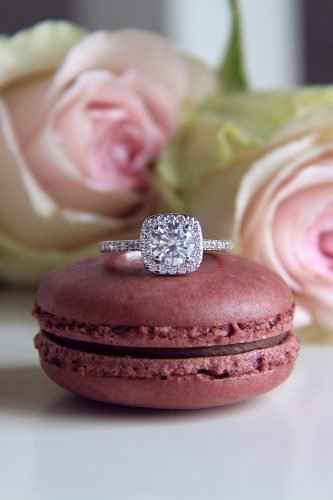 Facebook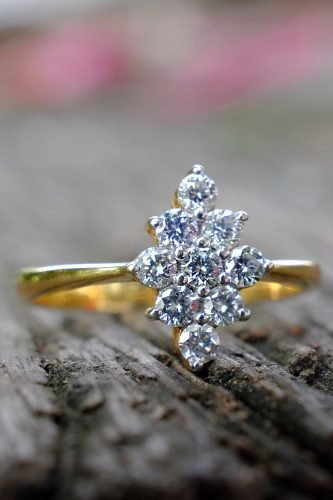 Facebook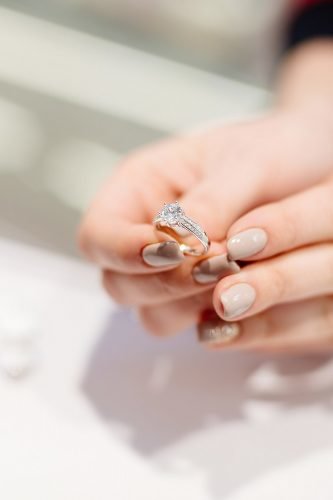 Facebook
Lab-grown diamonds are very affordable as they retail for 20% to 30% less than mined diamonds. These man-made beauties are also at par in clarity, brilliance, and quality with mined diamonds. It is also observed that they sparkle as more and even more than naturally mined stones.
The best part is that they are sustainable and are very eco-friendly. This is because they were not sourced from the earth, polluting the environment in the process. They are ethical and well-graded to the same standard as mined stones.
Trend 19: Wedding Trends 2020 – Lanterns
Lanterns happen to be one of the most sought 2020 decorating trends. They are fantastic for centerpieces as well as calm lighting. Talking about centerpieces, they can cost quite a ton when you rather invest in flowers, especially when on a budget. To save money, go for lantern alternative centerpieces.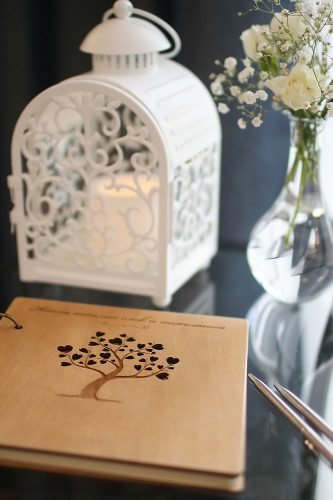 Facebook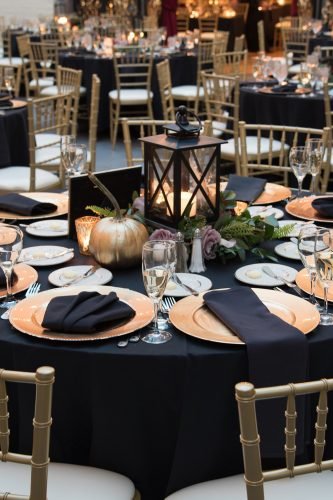 Facebook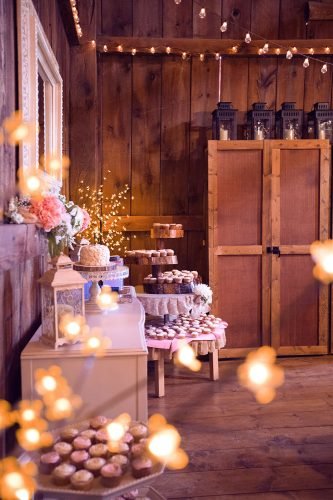 Facebook
Lantern centerpieces are perfect for outdoor weddings and a sure way to have your centerpieces stand out. For a wedding in the spring, add some candles to them. This will provide lights that complement the beautiful spring sunset. A practical way to incorporate tradition at your wedding.
If you're bent on flowers, you can surround the lanterns with flowers. You can also throw in twinkle lights around the lanterns to fit your color scheme. Trending decorating ideas for lanterns are endless to fit each time of year. Lanterns for decor are perfect alternatives to traditional lights and flower centerpieces.
Trend 20: Non-Traditional Wedding Parties
If you've got animals or even lovely kids, there are ways to make them a part of your wedding. Gone are the days where these lovely creatures were left out of wedding celebrations. The new trend in weddings is the non-traditional style. And with kids and pets at your wedding, the pictures take a cute turn.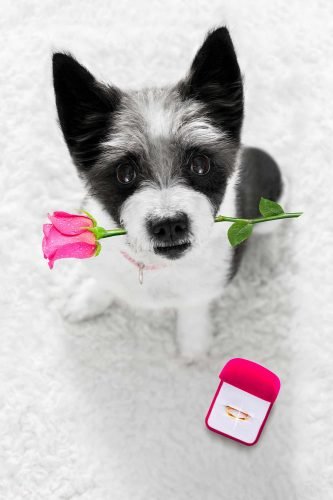 Facebook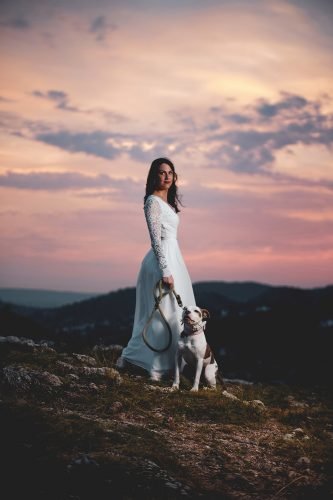 Facebook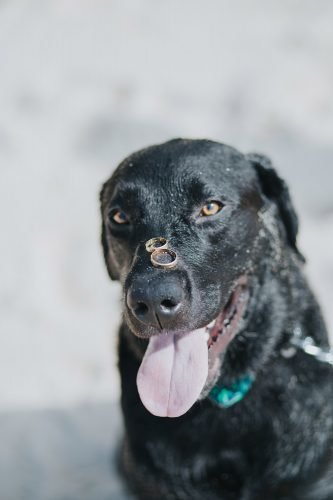 Facebook
Pets can walk the bride down the aisle. You can also have them pose next to your wedding attire before the day begins. Make pets a part of the bridal and groom photos, a very cute upgrade from the regular.
Kids are very sensitive, so to avoid picking favorites, have them lead the processional. You can ditch the traditional flower girls and ring bearer roles for this. The kids will unite with their parents after getting to the altar. They can also be junior bridesmaids and groomsmen or makeshift photographers armed with disposable cameras.
Bonus: What Wedding Trends Are Going Out Of Style?
With the wedding industry evolving, what wedding trends should die?
Generic themed weddings
Working with a strict themed wedding idea around one generic theme can be overwhelming and tacky. It doesn't matter is its Disney, country, nautical, Gatsby or rustic, we're ready to see it go. Couples will source specific items to bring the theme to life, making budgets go over the roof. Take inspiration from themes and subtly apply.
Bland party favors
This is one of the trends to avoid because most times, they get thrown in the trash. Although they are cute, their aims are quite tarnished. We advise that you put this money into getting guests a fully stocked bar or transport. If you're bent on gifts, be thoughtful about it so they are useful. Home items, edible snacks, herbs, and spices are winners.
Chaotic and cluttered table-scapes
Chaotic and cluttered table-scapes are some decorating trends to avoid. A ton of candles, flowers, and centerpieces makes it an event for guests to enjoy their way through dinner. The best bet is to pare back your styling to ensure enough room. Stick to simple details that won't consume too much room.
Mason jars and burlap
Oh! It should go. This is like a staple birthed by Pinterest for rustic weddings. But it's about time for note creativity and thinking outside the box. In place of burlap and mason jars for rustic, choose timber tables, lush foliage, and soft pieces of cotton. These are fitting modern alternatives.
The confetti toss
In photos, confetti tosses are so beautiful but are the papers biodegradable? If they aren't, then it's not an environmentally friendly decision. Some wedding venues ban the use of confetti or charge a fee to clean it up. Use eco-friendly paper or natural alternatives like birdseed or petals. They decompose well.
As wedding trends evolve year after year, they avail us something to look forward to all the time. Creativity is endless, and there is always something to satisfy your curiosity or inspire you if you are looking for something new. Change is constant, and no matter the type of wedding you are having, be it traditional, or one which colors outside of the lines, you are sure to find 2020 wedding trends to suit your taste. This is not to say that we are throwing out the old trends, however, while some continue on after 2020, some others are modified and then others replaced.
There are numerous aspects to a wedding, from the décor to entertainment, venue, fashion aspects, music and more. Every new trend can totally transform each or all of these aspects to give you a completely unique wedding that will have your guests talking about it for some time to come. The season is also a factor which can give you ideas on which of these trends would best fit your wedding. From items like summer wedding centerpieces, fall color palettes, and décor inspiration, there is no limit to the beauty you can create for your big day. The wedding trends in 2020 have been particularly exciting, and we look forward to 2020 eagerly. Do consider these new wedding trends as you begin to plan your wedding ceremony and reception for the upcoming year.
The post 20 The Biggest Wedding Trends We Predict In 2020 appeared first on Wedding Forward.